If you're running an online business now, or plan to in the future, you've probably come across the option of using PayPal to do your transaction. The nice thing about PayPal is it allows you to start off slow as a smaller business while still accepting major credit cards on products or services you have to offer. However there are still associated fees with doing this because you need to have a premium or business account to obtain reduced rates when accepting credit cards, however direct PayPal to PayPal transfers inherit the same feeds on the premium and business accounts. Personal accounts allow free PayPal to PayPal transfers but horrible credit card rates. Not only that, but they limit your credit card transactions to five per month.
PayPal to PayPal Funds Transfer
When a buyer adds funds into their account (always free no matter what kind of account you have) and then pays a merchant with the funds with an existing balance from their PayPal account.
The only way around this is to actually have two accounts, and paypal allows this as noted in their FAQ:
"Yes. PayPal members may have one Personal account and one Premier or Business account. You can add additional email addresses, credit cards and debit cards, and bank accounts to your Personal, Premier or Business account. However, each account must have its own email address and financial information. If only one account is needed you may also upgrade from a Personal account to a Premier or Business account."
As you can see in the highlighted text above, there is a catch which is the only obstacle in reducing your PayPal fees. The way around this is simply to setup a 2nd checking account. How you do that is up to you. I was able to get two checking accounts from my bank (Chase), have a balance of $0, and pay no fees on them because I have my mortgage through Chase. Before that, I was in college and took advantage of one of my local banks that allowed me to have two checking accounts with no fees in the same manner because I was a student. You'll likely need to sit down with your bank and discuss the options that are available to you.
Below is the rates and fees breakdown so you can get a better idea of what you're avoiding:
Once you do you'll be able to associate a personal PayPal account with one of the checking accounts, and A premium PayPal account with the other. You'll also need to setup two separate emails, but you can get that kind of stuff for free through GMail.
Provide Your Buyers With Easy Buy Buttons and Subscriptions
Another great thing about having two accounts is you now also have the ability to save money in some places, but have the optional benefits like reoccurring subscriptions with a premium account.
John Chow recently posted a video on HowTo Setup PayPal Subscriptions, though I don't believe he mentioned You'd have to have a premium or business account to do so
. See the video below.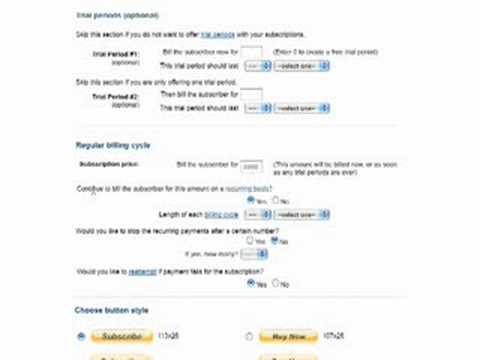 If you only have a personal account you can still go to the "Merchant Services" tab and create one time (or even dynamic) "Buy Now Button" buttons. However you will not have access to the subscription feature. Also you're relying on the fact that the user has a PayPal account, AND has funds or the ability to transfer funds into the account.  95% of the advertisers that approach me have this. So if your Buy Now buttons are for advertisers to purchase banner spots on your site, you're probably OK doing this with a personal account.
What If They Pay With A Credit Card Anyways?
If they DO pay in credit card, the payment will still go through and show up in your account. You will have an option to accept or deny payment. Of course accepting the payment will bring you through the steps to upgrade your account to a PayPal Premium account. Only takes a couple minutes and can be done online. Anytime an advertiser has done this, I have simply deny the payment and use the provided email they used to send the payment to reply back. In that email I request they send me a direct funds transfer to that account. If they cant do that, I tell them to pay PayPals fees (2.9% + $0.30) plus whatever the initial fee was to my premium account. If their advertising cost $500 per month, then they end up spending $15 more. Usually enough for them to go to the trouble to deposit their funds properly and send them to your personal account
. Again, this is a rare case. It also sounds like a lot bending over backwards to avoid semi-minor fees, but if you go through it once, you'll find its pretty straight forward and worth it long term.
Big Money Savings
The usefulness of this is dependent on the size of the purchase. If you're selling something for $20 and not doing it too often, then your time and effort to go through this probably isn't worth the $1.00 you'll save from that $20. Analyze who your buyers are and what you're selling. It still might pay off if you don't have to deal with it too often. Also its worth dealing with it on large ticket items.
Respond: Leave A Comment | Trackback URL
Entrupeners, Subscribe for the lastest tools, tips, and tutorials.